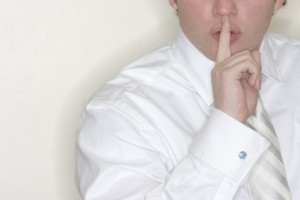 H. Beecher Hicks, in Preaching Through the Storm, writes about three things that attempt to force the preacher into being quiet when they need to speak. Are you being silenced?
The first of these is the "socio-political and economic climate of America." Here the prevailing common wisdom seeks to force us as preachers into being quiet about injustice and anything that causes pain in the world. Much of the progress in racial matters in this country has been because the Black Preacher would not be silenced.
But today, have we sold our voice for twenty pieces of silver? Have we gone along with injustice for faith based initiatives? Sure we haven't preached injustice, in many cases, but have we let evil grow while we have a party on sunday morning and have nothing to help people the rest of the week?

If I can push this further. Does our political affiliation silence us? You speak clearly on Abortion, can you speak so clearly on the rights of the poor? What about corporations that are killing the poor by dumping toxins in rural areas where no one has anyone to defend them? Does our political affiliation force us to be silent on one or the other issue? I tire of partisan preachers who think that God is either a Democrat or a Republican. They use the same tired arguments from the talk radio rather than the word that comes from God in the Bible.
Doesn't the gospel have something to say to the powerful who have said that they are Christian? Doesn't the Gospel mean that we live differently? Will the preacher preach this, or simply forever preach a Gospel that is what Bonhoffer called Cheap Grace?